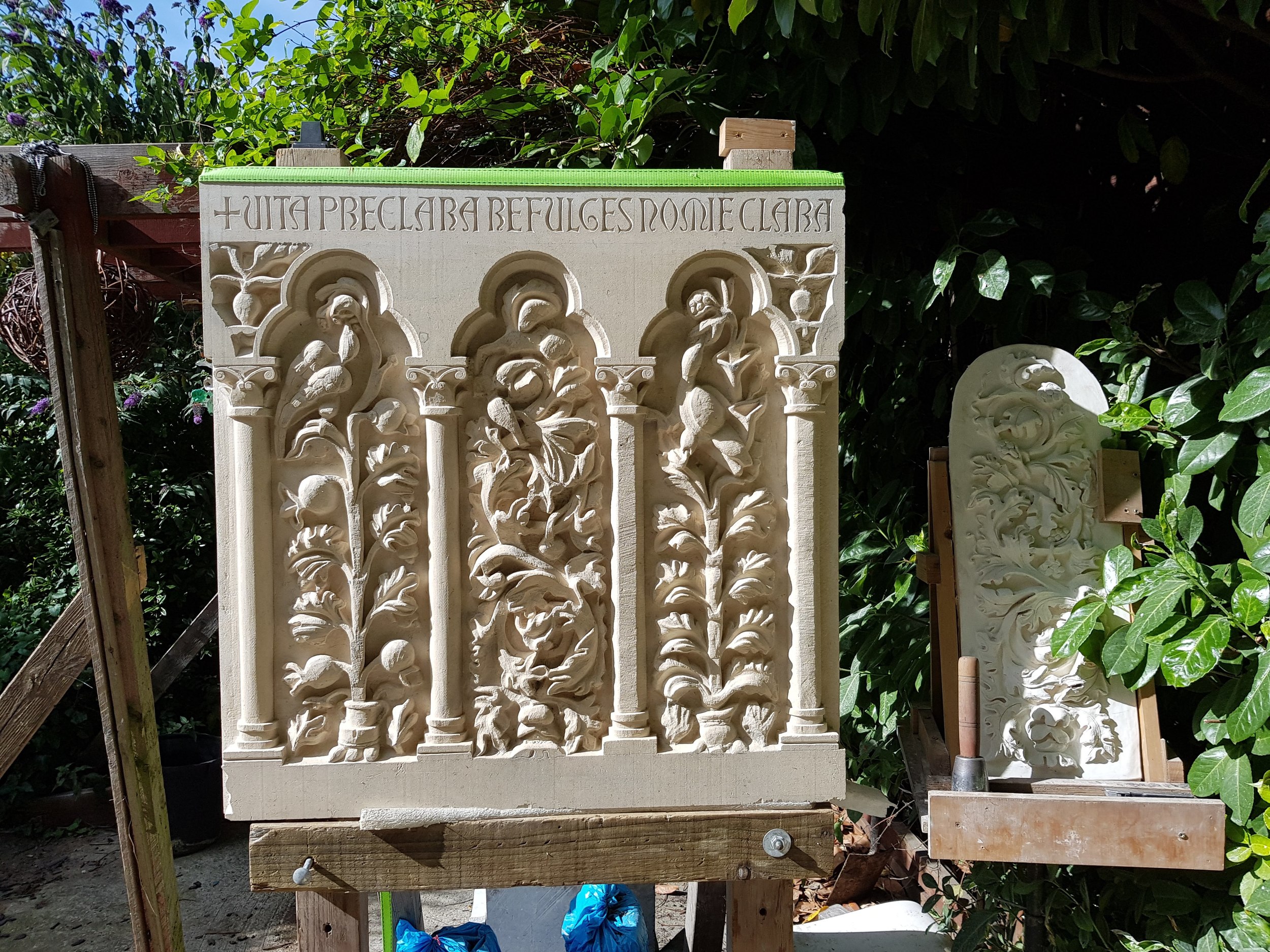 Trecento Tomb (two views)
For my final year project at City & Guilds of London Art School, I carved a composition based on the Trecento Tomb of Beata Chiara Ubaldini (1325). The original is carved in marble and can currently be found at the Victoria & Albert Museum, London. The original has eight bays but I chose to design a composition using only three of the original bays. I chose to include the architectural and inscriptional elements of the original in order to show a range of skills in carving and in order to treat the composition sympathetically to the original.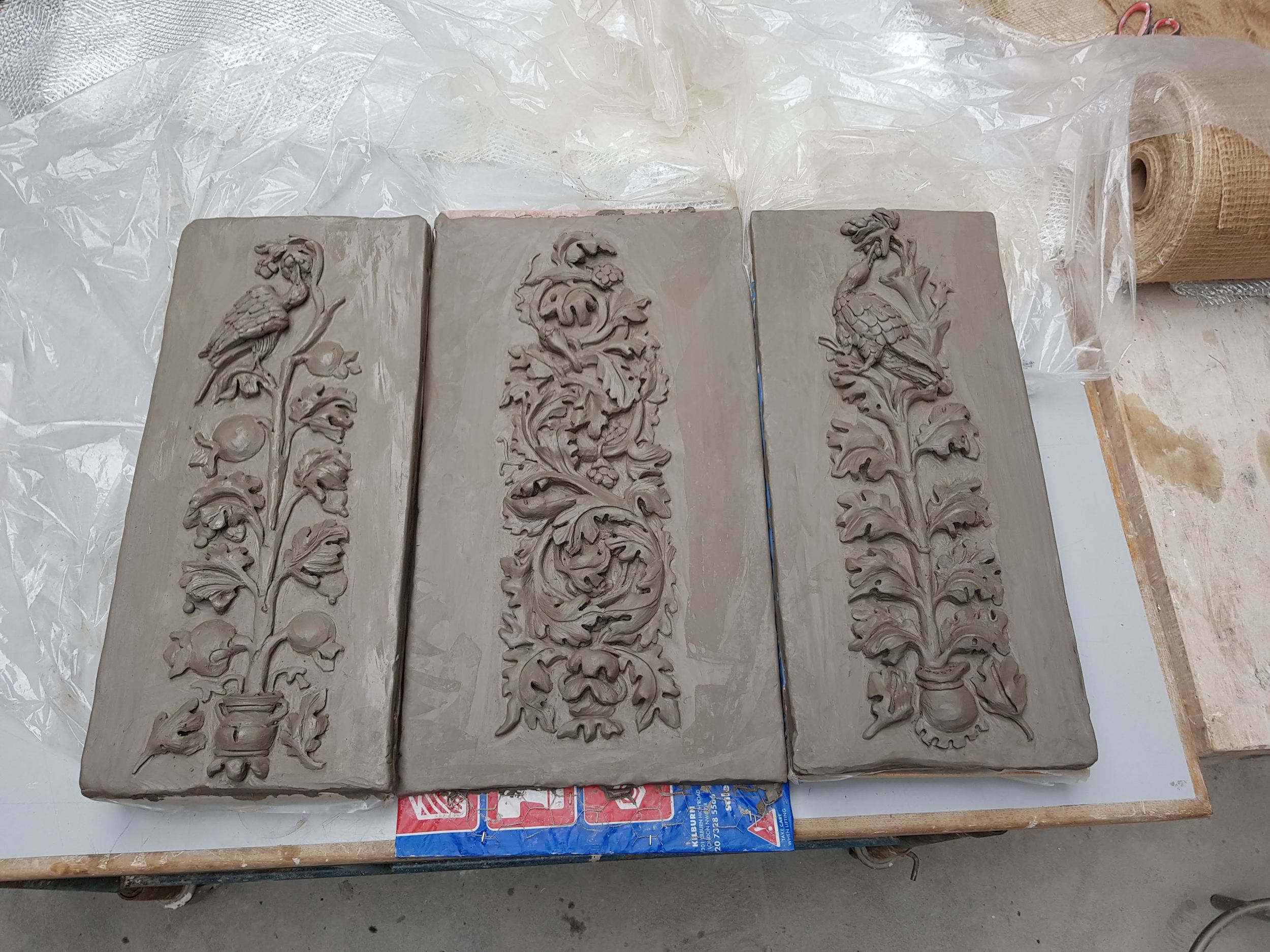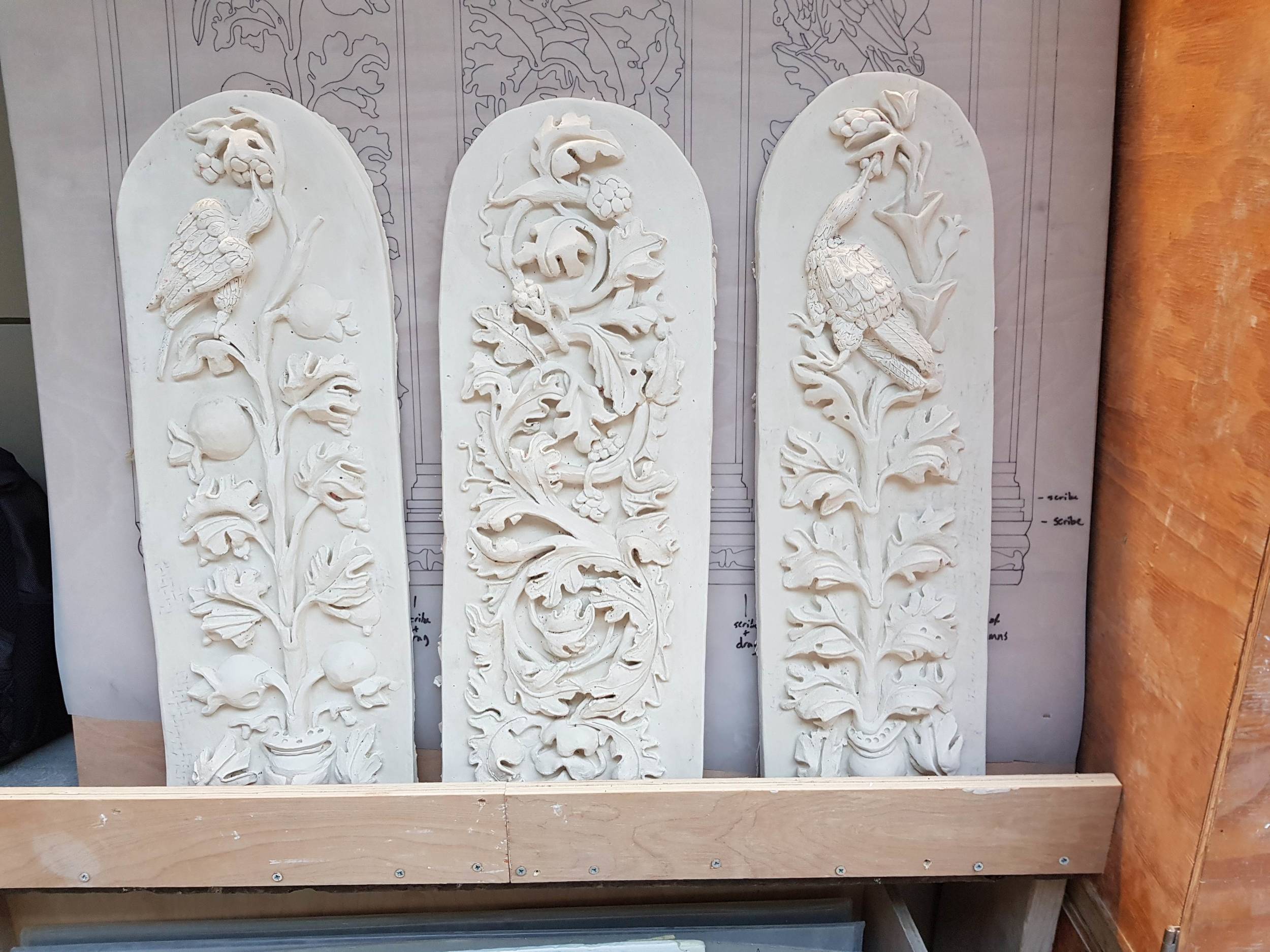 Clay and plaster Trecento
2019
In order to go about this project I first began by studying the original carving through observational drawing and looking. The marble is carved very beautifully and with great skill and observation was very important in understanding the rhythm and movement of the design. From the drawings and photographs that I made I transferred the design onto three clay panels. I then modelled the three foliate panels in clay, paying particular attention to the heights and depths which I obtained by measuring the original stone. It was also important to look at the original carving from all angles in order to accurately model the design in clay.
Once the clay modelling was complete I made moulds of the three clay panels using silicon. I then filled these moulds with plaster so I had durable and repeatable models for carving into the stone. Once the plaster models were complete I transferred the designs onto the lovely piece of Lavoux Fin limestone I would be carving.
Unfortunately due to the enforced closure of the Art School I was unable to continue working in the workshop at the school. However, fortunately, I was able to find a space to work and so continued carving outside in the open air. The preparatory modelling and casting proved to be invaluable to the carving and I was able to copy the design into the stone. The piece is yet to be totally finished but the process and experience has been invaluable, challenging and deeply rewarding. The academic research and writing I undertook gave me a new and rich insight into the lives of Florentine nuns in the fourteenth century. Little of what I thought to be the case about the life of nuns turned out to be true and this fascinating object reveals a fascinating period of time, in what must have been a very interesting city to live and work.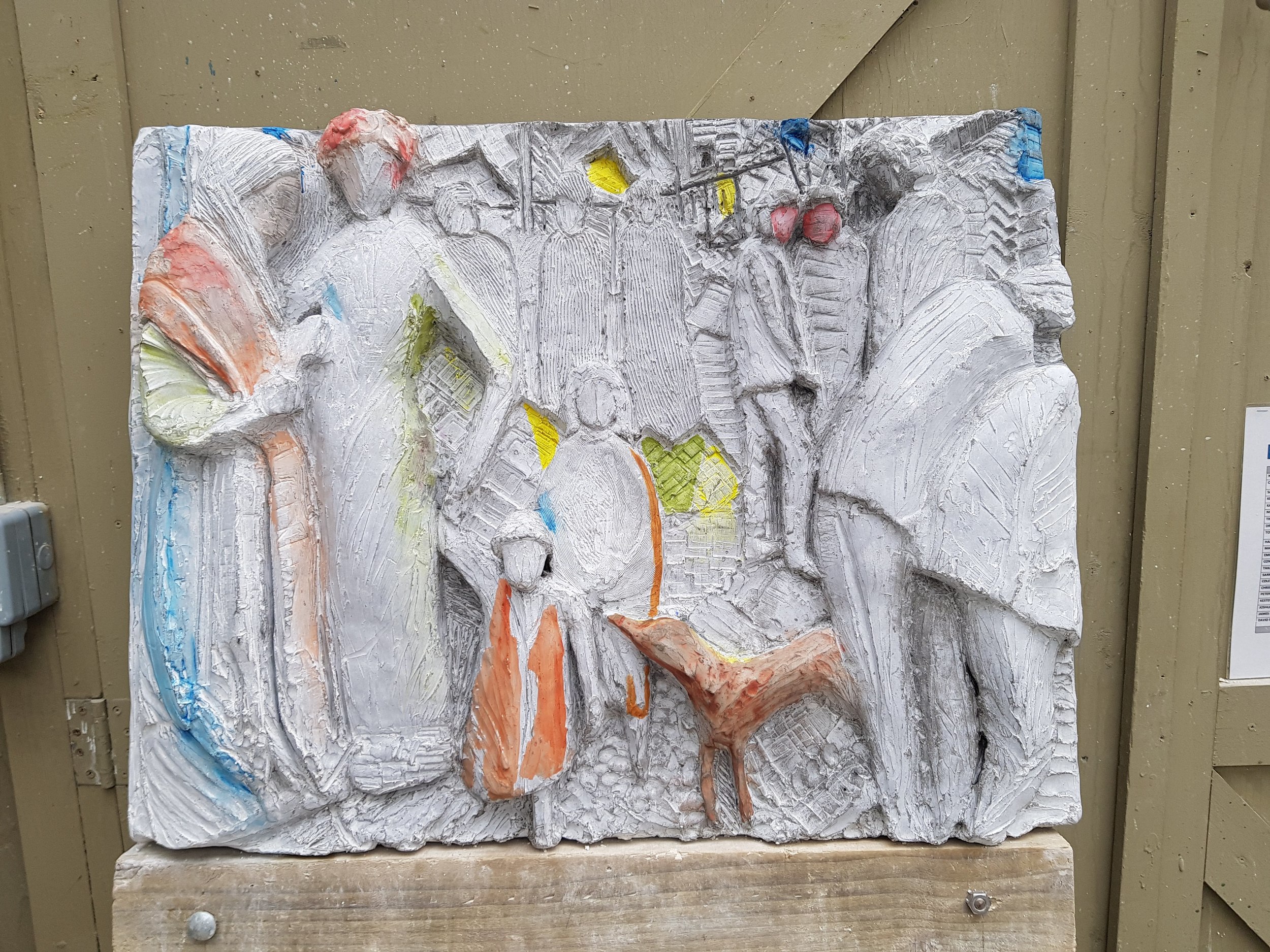 Further to carving stone, there is much emphasis of drawing and modelling at the Art School. As a result there is ample opportunity to develop these skills by choosing projects, designs and inspiration from wherever you so choose. Above and below are images of other work I was fortunate enough to undertake during my time at the Art School.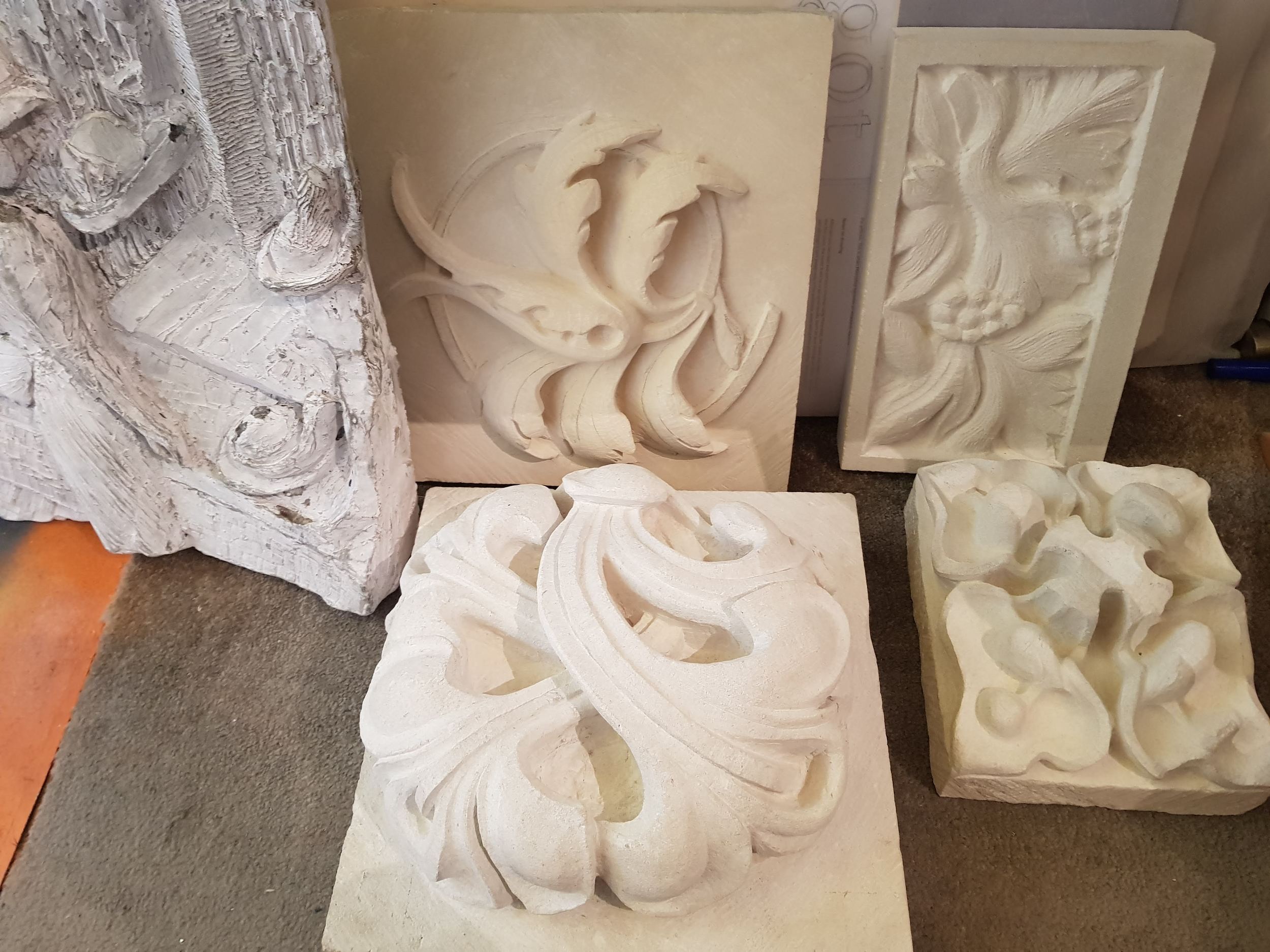 Portland and Caen Limestones